Description
"Public Speaking for Kids" takes the guesswork out of teaching speech and presentation skills to kids.  Teachers and parents are amazed at the enthusiasm of the students using this program, and the improvement in speech quality as they progressed through the course!  These short, fully-scripted lessons combined with the Student Workbook, make teaching kids public speaking a breeze.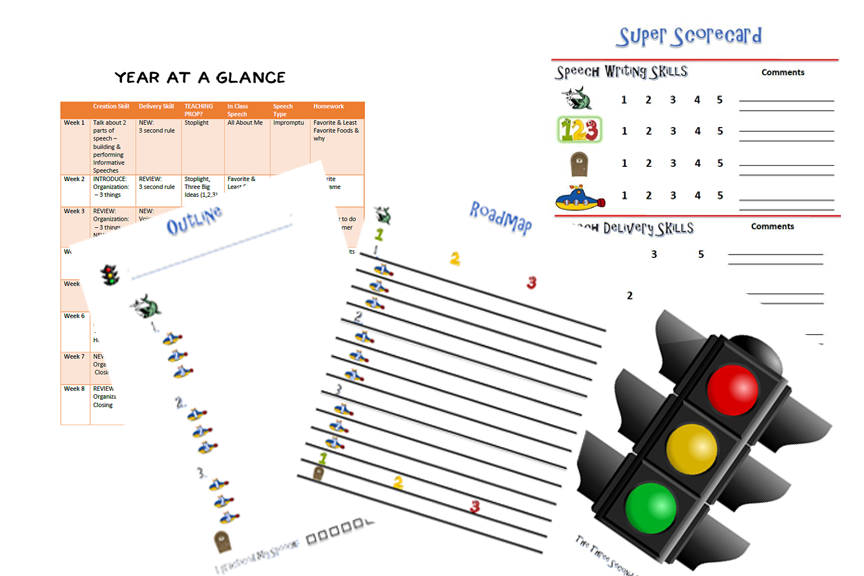 Level One of the "Public Speaking for Kids" series, was designed to help 1st-6th graders develop quality public speaking skills.  
While many parents just desire for their kids to get comfortable standing in front of a crowd, we believe even young students can do so much more!  Help your students take command of the audience and become excellent communicators with this incrementally skill-building curriculum. Best of all, it can be used year-after-year as your student masters these tools!
This is sold by our sister company: Big Brain Buzz.  Choose from the e-book and printed version of this product!  Find out more HERE.
The Teaching Guide Includes:
81 page, full-color teaching guide with tools that make learning fun for young students!
24 skill-building lessons – short (5-10 minute) lessons, once a week
Suggested weekly speeches by your student
Each week introduces a new performance skill, or speech creation technique
All lessons are completely scripted – we tell you exactly what to say and do!
Full-color Posters with images associated with the new skill for easy memory by kids
Classroom Interactive Images to keep the class engage
Use it year-after-year as your students learn to master these skills!
About the Student Workbook:
This 74-page, full-color workbook engages the students and provides an easy framework for speech preparation.  With images assigned to each tool and technique presented, this program helps engage all learning styles in a fun and memorable way.  The Student Workbook is used daily to prepare and practice speeches, and also used for presentation evaluation.  There are three main sections each week:
The Roadmap – Students use this to prepare their speeches with additional tools and skills to practice each week
The Outline – Students convert their speech to an abbreviated outline and practice presentation skills
The Scorecard – Students evaluate their own progress each week in utilizing the skills that have been taught.
Your download includes files for both color and black & white options.
Praise for "Public Speaking for Kids":
"We have loved this curriculum so far! The best part is how easy it is to use and how well-organized each week is. I like how each week a new presentation skill is added. The cue picture that goes along with each new skill makes incorporating that skill into the speech easy. My kids like how the outline pages provide just the right amount of guidance while keeping it simple." – Sarah M., Parent
"Pull-out and go! Very User-friendly! No need to struggle with what to teach next! Excellent check-off list! The kids love it! They can't wait to present! I have had students tell me on Sunday that they can't wait to give their speech on Friday! They beg to do their presentations! The curriculum helps develop excellent speakers and presenters when they are young! It takes so little time and the rewards are tremendous!" – Michelle K., Public Speaking Co-op Instructor
"This speech curriculum has been an excellent resource for our family. It is extremely easy to use. My children's ability to create and present speeches has greatly improved." – Whitney M., Parent