I think a lot of parenting and homeschooling is perseverance.  Just plugging along even when it is tough.  I don't believe there is a one-size-fits-all answer.  But I thought I would share this little routine we have used the past few years that has made the homeschool routine MUCH easier on this momma and kiddos. Easy to manage, easy to implement, and easy to maintain.
The one purchase that streamlined our day…
First of all, each of my children and I have a "tub".  It is just a plastic file-folder box from Wal-mart.  They come with lids, but I leave mine off, and write their name in big bold sharpie marker on each side.  All of each kid's curriculum and resources go into their tub.  Anything that I do with the kids together, goes in a tub with my name written on the sides.   I also have one hanging file-folder in each of their tubs for completed work.  The tubs are the perfect size to live on our bookshelf, all neat and tidy.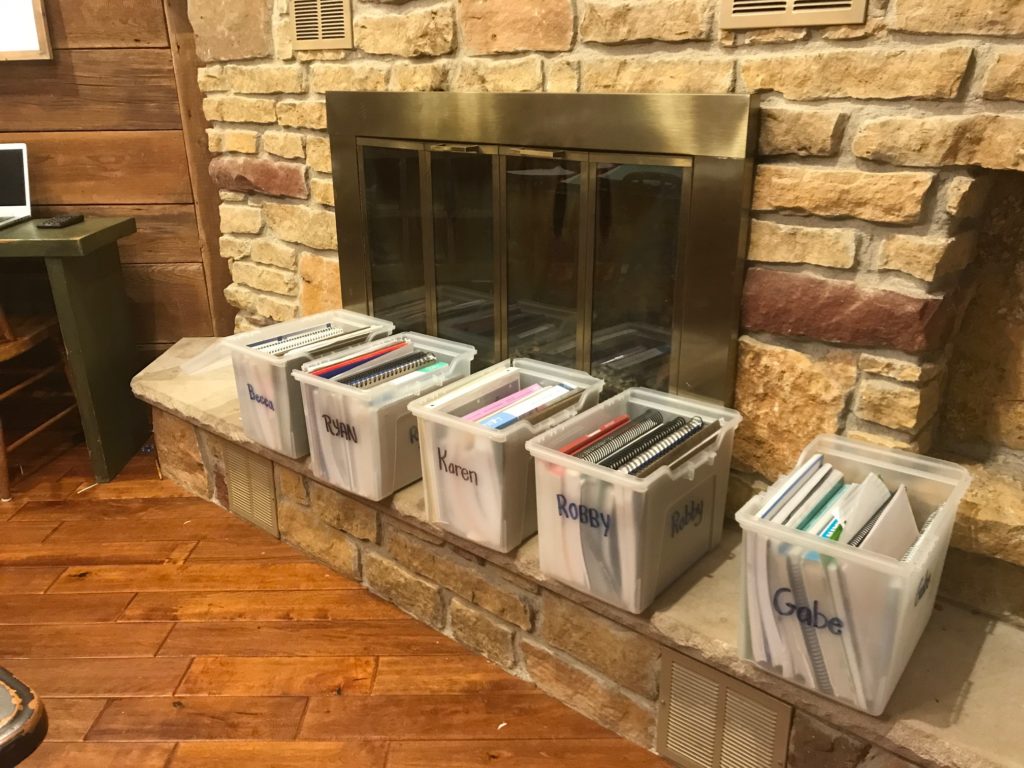 In the morning, I grab my tub and get out my Bible curriculum that we do together as a family.  Then the kids grab their tubs and set them on the fireplace hearth to start the day (the fireplace is in our school area).  They set their checklists next to them and get to work.  As they complete something on their checklist, they mark it off their list and "hand it in" (I have a corner of my counter designated as the "turn-in" area).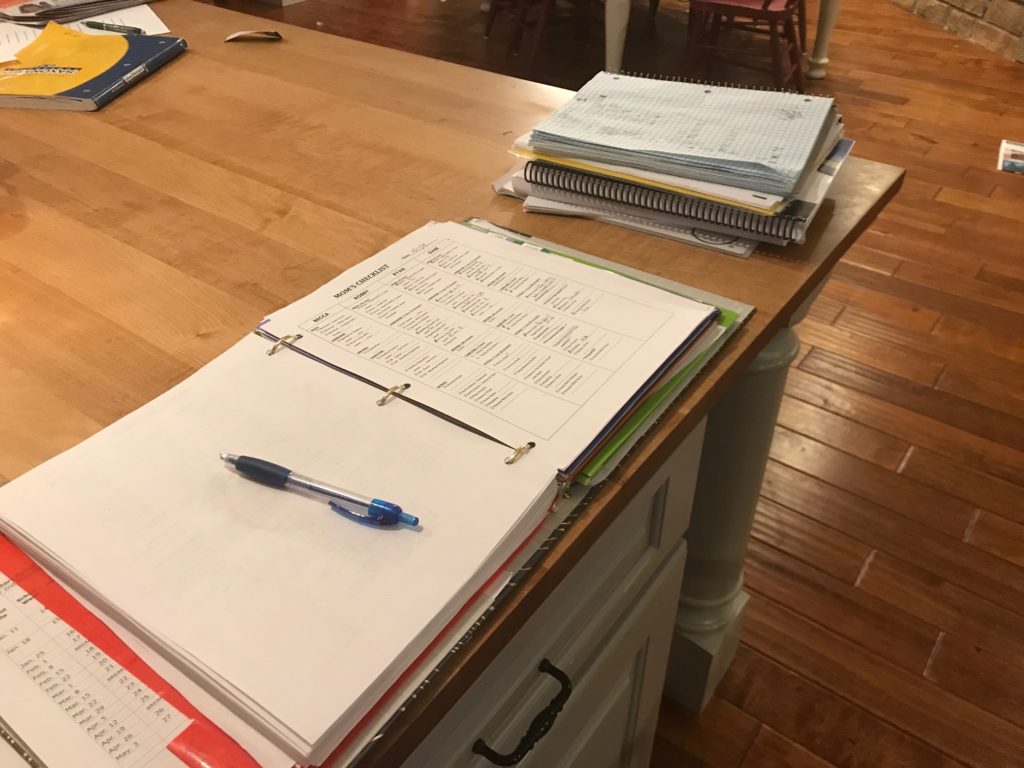 Then they go to work on something else on their checklist.  When I get a chance throughout the morning, I check the work that has been turned in, make sure the date is on it, write my initials and give them one of those silly circle stickers (this helps prevent that kid that is creative from turning your initials into a picture and trying to turn in the same work the following day – hypothetically of course……ahem…).  Then I mark it off of my checklist and put it in that kid's tub.  If it is a loose worksheet, it goes in the hanging file folder in that kid's tub.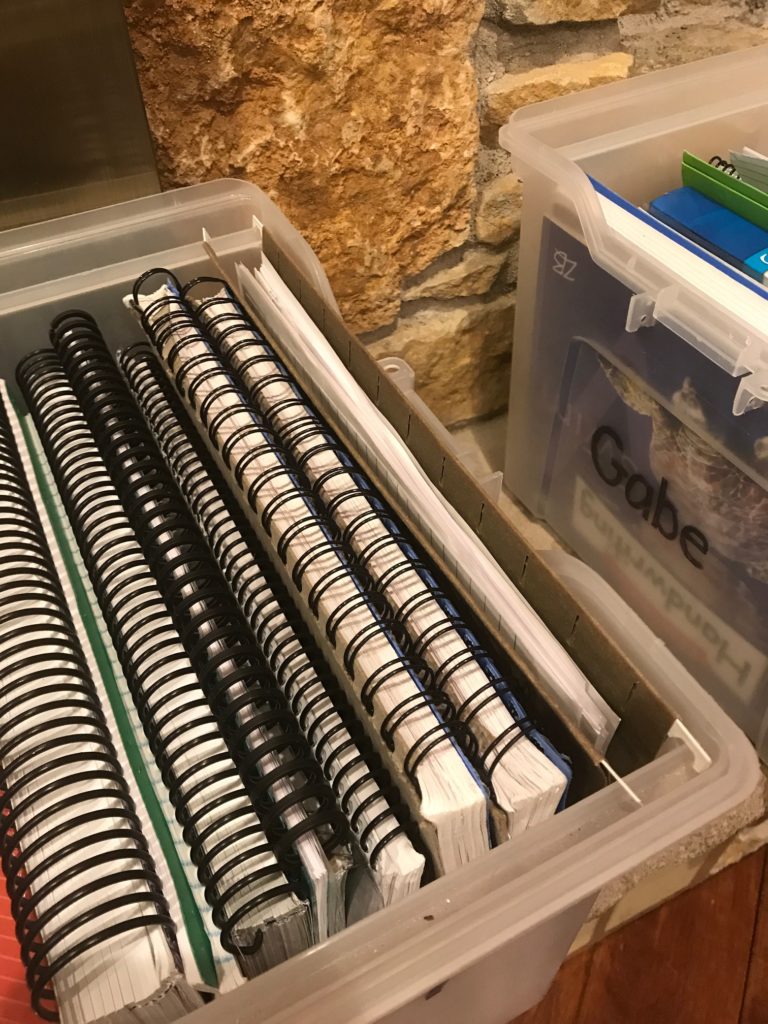 At the end of our school day the tub goes back on the shelf, and everything is neat and tidy again (and easy to find the next day).  It's what I call the "circle of sanity".  🙂
During the morning, I interrupt the kids individually to call them to work with me on whatever subjects we do together.  If they aren't working on a subject with me, they are supposed to find something on their checklist to complete. I just keep working through the items one by one that require me, beginning with the youngest kids and later to the oldest.  This helps me get through the things requiring my help and releases the younger ones to know that they can finish up their lists to have free time.
No Exceptions
The "turn in" station is a must.  With one kid, it was easy.  Two kids, not so hard.  Three kids started to get a lot to juggle.  Four kids is just too much to keep in your brain and be sure everything got done.  I have to have a checklist, and they have to turn it in.  It's that simple.  If it isn't marked off of my list, then it isn't considered done.  This system has helped me to take a few more seconds to evaluate how my kids are completing assignments, talk one-on-one with them regarding sloppiness or challenges, and our day seems to move quickly.
So the first critical part is putting each kid's items in a tub. In the next post, I will tell you all about our checklists – finally an easy system that works!
By the way…
Looking for a great resource to get a little "hands on" with your memory work?  Try these fun lapbooks!  Imagine a pop-up book created by your kids with all of your memory work in it! Fun to learn, review, and show off what you studied to parents, grandparents, and to use as a portfolio of your memory work!  Updated for the 5th Edition!