I found a fun Advent resource by Amanda White with all kinds of great projects that walks you right through Advent! No more tedious planning! Perfect for the younger grades!
I love that the scriptures are repeated several times throughout the month so that the kids really understand and remember the Truth! This is all about Christ, and leads us to the cross – you can't love the manger, unless you know it was ultimately for the cross! Check it out!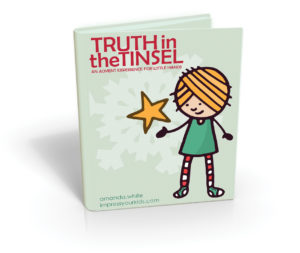 When you BUY THE BOOK, you'll have 24 full days, detailed supply lists, alternative schedules for those busy weeks, free printable templates and some great tips on how to use the book! Best of all, it's only $4.99!!! Forget about all the time and effort spent planning – spend that time with the kids! Totally worth it!
So excited for this resource! Hope you enjoy it too!