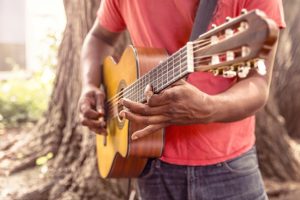 I remember so clearly the day I was running on the treadmill, listening to my audio Bible and suddenly had to stop the treadmill immediately.  I was so surprised by what I heard!  We had been using the Classical Conversations program for a few years, and I had discovered that my children memorized easily when the material was set to music.  And here it was, right in the Bible – God knows we memorize permanently by music!  Here is what I heard:
Deuteronomy 31:16-22
And the Lord said to Moses: "You are going to rest with your ancestors, and these people will soon prostitute themselves to the foreign gods of the land they are entering. They will forsake me and break the covenant I made with them. And in that day I will become angry with them and forsakethem; I will hide my face from them, and they will be destroyed. Many disastersand calamities will come on them, and in that day they will ask, 'Have not these disasters come on us because our God is not with us?' And I will certainly hide my face in that day because of all their wickedness in turning to other gods.
"Now write down this song and teach it to the Israelites and have them sing it, so that it may be a witness for me against them. When I have brought them into the land flowing with milk and honey, the land I promised on oath to their ancestors, and when they eat their fill and thrive, they will turn to other gods and worship them, rejecting me and breaking my covenant. And when many disasters and calamities come on them, this song will testify against them, because it will not be forgotten by their descendants. I know what they are disposed to do, even before I bring them into the land I promised them on oath." So Moses wrote down this song that day and taught it to the Israelites.
Wow!  I don't know about you, but I am so encouraged that the God who created our minds and hearts clearly tells us to use music to our advantage – to memorize things that bring us back into communion with him!
I know when I face hard challenges or someone I know is struggling, the scripture that I have memorized comes pressing into my heart and mind to remind me of the truth of God's faithfulness and sovereignty.
Because of this truth (and because I want my kids to memorize a lot of scripture, I began recording scripture to music.  I am now humbly offering some of it to the public, with a sincere heart that begs people to consider memorizing The Word!  Just play it in the car and in your homes, and you will be shocked how easily you and your family can memorize whole chunks of scripture!
Simply Scripture Songs Feature:
No repetition of words – memorize it just as it is in scripture!
Catchy tunes and repeating sounds to help you memorize!
Eight tracks to break it down into smaller sections
Printable PDF with lyrics (The book of Colossians – NIV version)